FIFA And The World Of Soccer: A Journey Through The Global Governing Body
Today every football fan knows the name FIFA; the reasons for it are certain. It is the number one association for professional football sports worldwide.
However, very few people know its background, history, and how FIFA evolved to its present form. Well, that is one important yet less discussed topic.
That is why, here in this article, we will tap into some untouched things about this top international football organization.
History And Evolution
Let's first talk about the events that stirred the establishment of FIFA. So it was the beginning of the 20th century. At that time, various national football organizations discussed the need for a single institution to promote and regulate professional football.
That is when some European countries decided to form the Federation Internationale de Football Association. This name in French was commonly called through its short form FIFA. The founding members were Switzerland, Belgium, France, Denmark, Netherlands, Sweden, and Spain.
National football organizations of these countries willingly formed one entity to regulate football events and laws more efficiently. Although Germany was not present at its foundation, it presented its intention to become FIFA's part.
Although it was initially for European countries, other countries soon became members. The first member countries of FIFA outside Europe were South Africa, followed by Argentina, Canada, Chile, and the United States.
FIFA faced a major setback at the time of WWI when most of the players were sent to the forefront. At that time, it was even on the brink of existential crisis. However, it somehow survived and retained itself to the present day.
There were times when some countries withdrew their seats from FIFA, but now it is an organization of 211 national associations.
Symbols Of Recognition
If you have watched soccer streams online, you must know the logo and anthem of FIFA. It was in the year 2018 that the current design of the FIFA logo was selected.
Like the UEFA Champions League, FIFA's anthem is composed by Franz Lambert, the most popular German Composer. FIFA's first anthem was used in 1994 and has been in use since then.
However, throughout these years, Simon Hill and Rob May rearranged and produced FIFA's anthem. This anthem song is played at all FIFA tournaments and matches, including World Cup and Beach Soccer World Cup, to name a few.
Game Structure
As we know, FIFA was formed to manage and unite different football associations.
Aside from its other worldwide associations, six major confederations are recognized by FIFA. These confederations oversee professional football in different countries. To be more specific, they represent different continents.
FIFA has 211 member nations, with their men's national and 129 women's national teams. Because FIFA is the governing body of international football, it can ban countries from participating on various grounds.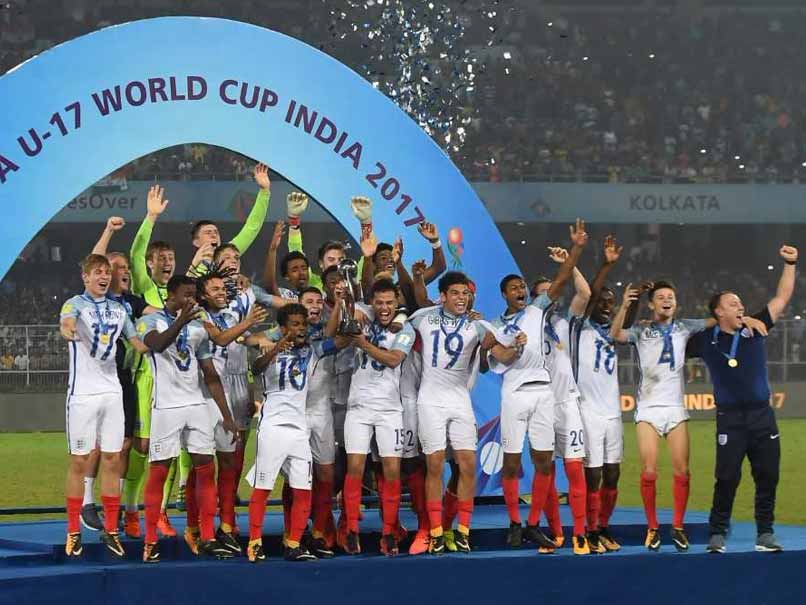 source - https://sports.ndtv.com/football/fifa-u-17-world-cup-in-india-becomes-most-attended-in-events-history-1768374
It can be doping or drug issues, financial irregularities, corruption, or governance interference.
The men's national teams have the FIFA World Cup, FIFA U – 17, and U – 20 World Cup, with other tournaments. The women's national teams include FIFA Women's World Cup, FIFA U – 17, and U – 20 World Cup.
Moreover, it has the Women's Olympic Football Tournament and FIFA Women's Futsal World Cup.
Regulating Laws
FIFA is a member of the IFAB, or the International Football Association Board, which sets rules for professional football sports. Hence it follows the rules and regulations set by IFAB.
Although FIFA can't set the laws of the game, it applies all the laws set by IFAB in all FIFA competitions. It is dedicated to the organization and promotion of major football association tournaments.
In addition to this, FIFA objectifies the norms in the organization's statutes. Like providing efforts to make football competitions accessible to all and upholding fair play and integrity.
Also, it works toward growing the football association on an international level by including more countries. FIFA Congress is one of the prime institutions of FIFA and has representatives from all affiliated member associations of FIFA.
This body is responsible for making decisions related to FIFA's governing statutes and how to implement them. Only the FIFA Congress can change FIFA's statutes and approve the annual report.
In between the FIFA Congress intervals, the FIFA Council holds meetings as the body with decision–making powers. The president is the chairperson of this council, and 8 vice presidents and 28 members are part of it.
The main office holders of FIFA are its president and general secretary, who is also responsible for the daily administration. Moreover, FIFA has various other institutions working under it and following its rules and regulations.
These councils altogether decide to ban a country from FIFA tournaments and apply all the rules. In addition to this, other standing bodies have their own set of tasks prescribed by FIFA.
Awards
There are numerous awards and recognition under FIFA, like World Cup championships for men and women. These tournaments also present various other honors from time to time.
For instance, FIFA has held an annual award ceremony since 2016 known as The Best FIFA Football Awards. Under this, it awards the individual and team achievements made in the international football association.
On an individual basis, The Best FIFA Men's Player is the highest award for men, and for women, it's the Best FIFA Women's Player. Apart from this, FIFA also has presented other awards like the FIFA FIFPro World11 and the Best FIFA Football Coach.
In 2000, it presented two new awards the FIFA Player of the Century and the FIFA Club of the Century. These awards were for the outstanding football players and clubs of the 20th century.
Real Madrid was selected as the best club, and Pele and Diego Maradona were the joint awards for the best player.
source - https://www.latimes.com/sports/soccer/story/2022-12-29/pele-impact-soccer-diego-maradona-revolution
Conclusion
Therefore, we can see that FIFA has covered a long journey since its formation. However, now it is standing as the top international organization for football, but it has faced several setbacks too.
Yet it stood strong and dealt with everything efficiently. That is, today, football players, as well as football lovers, all are FIFA's great fans.
If you are also a soccer fan and want to enjoy all matches live, RSoccerStreams is the perfect place. It offers its audience live-streaming links for all popular sports.
With us, you can enjoy past matches by browsing archived videos with highlights and analysis. We are the number one platform where you can watch all matches without paying any extra penny.
You just need a device and an internet connection and are ready to enjoy your favorite anytime from anywhere. So you don't need to worry about your cable connections anymore or waste your money on it.
Now, with us, you can enjoy all your matches entirely, even on your smartphone. We provide you with a detailed schedule of all matches so you won't miss out on anyone.